Conall Ryan: "I help publishers and technology companies develop and execute their ed tech strategies. This work often requires matchmaking clients with research firms, designers, product developers, and distribution partners to build products that meet emerging market needs."
As ed tech practitioners, it's easy to get excited by new technologies and start looking for ways to apply them in schools. All of us can think of ways that augmented reality and virtual reality could improve a current course or training program.
However, ed tech entrepreneurs have a much better chance of success if they take the opposite approach and ask: "How can we help institutions improve teaching practices and learning outcomes?" Listen first then see where that leads in terms of technology.
We must keep reminding ourselves that teachers have no time. To win as innovators, we need to deliver products and services that they can use without a lot of training, products their colleagues can get behind and their students can benefit from using.
To get in the game with K-12 here are the table stakes requirements your products must deliver:
Standards-based

Research-based

Easy to use

Provides good data

Provides iron clad privacy

Has thoughtful implementation approach

Complies with acceptable integration/interoperability standards
Table Stakes for Higher Ed products:
Affordable for students

Works on any device

Accessible (WCAG 2.0 AA) so students with disabilities still get a great learning experience

Can be integrated with other products and services the institution already has in place per IMS Global standards
Few MVPs (minimal viable products) meet all of these requirements so be prepared for lots of iteration and piloting and be realistic about whether you have the resources to finish the job. Going fast is good. Cutting corners is not. Make sure you know the difference. The hard way is usually the right way.
Most of us have seen versions of the following chart to measure the effectiveness and efficiency of a product or service: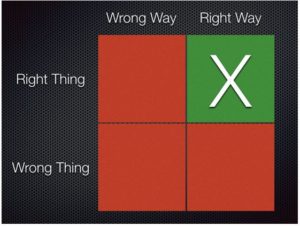 Ask yourself what might cause teachers and institutions to relegate your solution into one of the red boxes:
They can't afford it.

They believe it's the "right thing" but their school doesn't have the infrastructure to properly support it.

They think they want to buy it but they can't figure out how to use it.

They've figured out how to use it only to discover that it doesn't deliver the expected benefits to their students.

Your product violates too many of the table stakes requirements to be granted even a pilot consideration.

Your product's buggy.

Your product doesn't scale.
Maker tools that empower teachers to program without having to learn to program hold great potential. What can we do to put more power into teacher's hands to customize their curriculum, personalize learning experiences for students, and derive keener insights from the formative assessment?
There always will be a market for tools and technologies that make people's lives easier while freeing them up to do more of what they're best at doing and something new that they couldn't do before.
Millions of people were empowered by spreadsheets. Spreadsheets eliminated the need to enter numbers by hand, an arduous and error-prone job. More important, they eliminated the need to be a financial expert. Anyone could do it. Anyone could ask "What if? – I sold 1,000 more units? cut costs by 20%? increased sales by 25%? reduced my cost of goods by 50%?" – and get an immediate answer. Spreadsheets didn't just help people crunch numbers. They freed people to think more creatively.
Spreadsheets also provide a third benefit. They teach people how to program in 2D through rows and columns and cells and formulas without knowing they're even learning a programming language.
Who will invent the spreadsheet equivalents for AR and VR?
Gamification and Technology-Based Approach to K-12