Research project
"Before getting to the point of sharing our "Technology in a Classroom" research project outcome, I would personally like to take this opportunity to "Thank each one of you" on behalf of CleverBooks team for taking your time and sharing your opinion on the topic. It's very much appreciated and we are proud to share the results with you."
Darya, CEO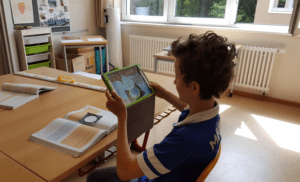 There is so much going around with innovation and technology involvement in many spheres of our lives, furthermore this also influences the implementation of innovative teaching approaches and technology in education sector.
Great things are happening like online course and management systems for schools. They save time and make them function efficiently. Even classroom has changed over centuries with projectors on the walls, flipcharts, makers and whiteboards. Obviously depends on the school budget and what they can afford. Important to say that it is definitely the future of the kids that is being shaped in the classroom, however, there are so many tools free to use out there for online collaboration, files transfer, e-learning, augmented reality, virtual reality.
We have received 126 responses from educators all around the world working in International and Private and Public schools (age group 25 – 61 years old).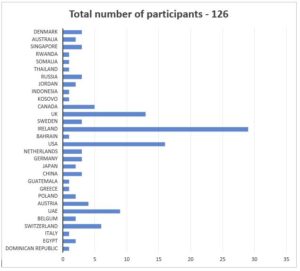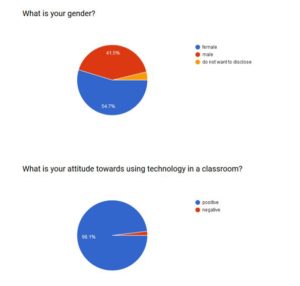 Over 98% of participants have a positive attitude towards implementing and using the technology in the classroom. Therefore, can suggest that schools do tend swim along with the technological revolution trends and take the best out of it to support teachers and children providing supportive learning environment.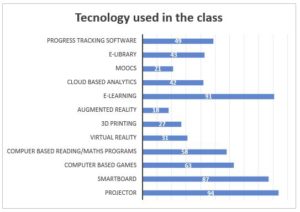 Some of the most use technology in the classroom are: projectors, smartboards and e-learning platforms.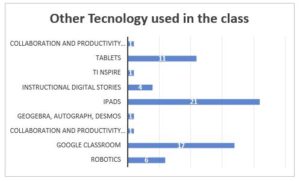 Some participants have also shared other technology they use at schools.
Furthermore, most of the schools have a wish list of technologies they would most be interested to implement in the upcoming years.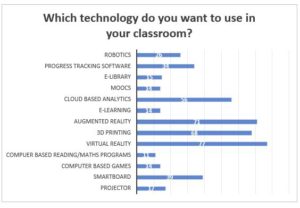 AR/VR are most promising technology to be used in the classroom within the next couple of years and "most wanted" by the educators.
According to the media, Augmented reality (AR) is in the Top 5 technologies that are transforming the future education in 2018. AR becomes an essential part of educational technology because it optimizes learning, improves comprehension and increases motivation for learning, especially for kids who can't imagine their lives without mobile devices and computers.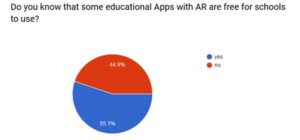 However, according to our research, the use of AR in the class is still new for many and educators are not familiar with existing AR based Application that are available on the market and ready-to-use.
Ready-to-use free and paid Apps with AR are available on the market aiming to be use as a supplementary to existing schools cuticulin for different subjects. Examples: AR for Education (42 tools) Apps link 1 , link 2 and  link 3.
Students can engage in learning activities more independently using the key modalities: seeing, hearing and doing.
What teachers can get by using AR in their classroom?
Animations and simulations;
3D modelling from easy to complex subjects;
Learning by experimenting and interacting in a controllable cyber environment;
More significant exploring of complex science subjects;
Use of interactive multimedia;
Bring new experience with books and schoolbooks that contain augmented reality;
New reading and exploring experience;
Interactions with teacher at home;
Stretching imagination limits;
Gamification of learning process which is vitally important especially at early stage;
Learning new competencies and abilities;
Information browsing;
Facilitation of practical e-learning.
The main goal in using AR in the class is to develop children's imagination where "the boring school subject suddenly brought to "Life" and start speaking for itself" providing interactive and engaging learning. However, every teacher needs to be careful in selecting augmented reality content provider in order to obtain quality product with quality content.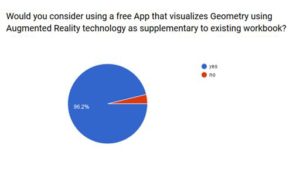 One of the cost free ready-to-use Applications is also available by CleverBooks – Geometry App with AR. (App download Android and iOs, Free PDF marker download). The program features 3D models with Augmented Reality (AR) for main geometric shapes. Children can directly interact with the shapes improving their spatial visualization of geometric models. This innovative and immersive learning proved to have positive impact on children with learning difficulties and less academically successful students.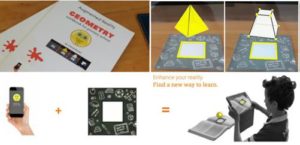 The first ever Geometry workbook with Augmented Reality (AR) that can be used as supplementary to any K-12 Math curriculum around the world are available for direct purchase all around the world on Ingram Spark (Nielsen catalogue, refer to ISBN: 978-1-9998946-0-3).
And the new geography app is coming our early January 2018 (be the first one to test – sign up here)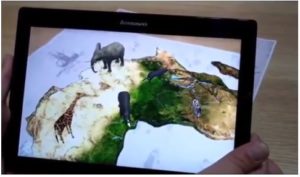 The important questions that were raised in the survey related to understanding the challenges, concerns and major influential aspects related to the decision-making process in bringing the innovative technology such as AR bases technology to school.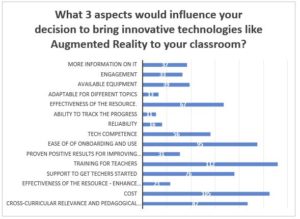 Among top 4 concerns/aspects that put the major impact on the decision-making process to implement innovative technology like AR in the classroom are: teacher training, cost, ease of on-boarding/use and the cross-curriculum relevance adding a pedagogical value to the lesson.
The applications with AR are usually used as a supplementary to the existing school curriculum and do not aim to replace the traditional teaching. Furthermore, the developed scenarios are usually covering just a certain part of the overall curriculum material, therefore teachers can plan ahead of time what would be the best way to implement this part into the class lesson. Apps with AR are easily launched on a tablet or mobile phone (based on Android or Apple) through a collection of printouts/ and flash cards set/workbook from the AR App providers. Teachers can also connect a projector to their mobile device and project the shapes on a whiteboard, making their lessons for K-12 classroom more interactive and dynamic.
If a school already has the necessary equipment (projector and tablet/smartphone) there is no cost involved in using some of the available Apps for different subjects. However, some Apps and additional material (workbooks or printed flash cards with AR) needs to be purchased but would not need a big budget. The AR technology doesn't require the internet connection, therefore it's a big asset for the schools that have the wi-fi connectivity issue.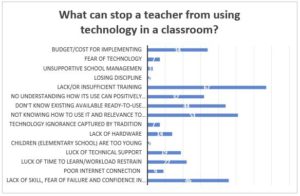 Teachers are always on the "hunt" for innovative ideas and solution to implement in the K-12 environment to capture the students' attention and inspire their learning with ideas about which they will be also thinking after they left the classroom. This is an even more problematic aspect when it comes to children with learning difficulties and less academic children. AR helps with visual, auditive and kinesthetic senses and it engages all of them and, therefore, augments perception of reality.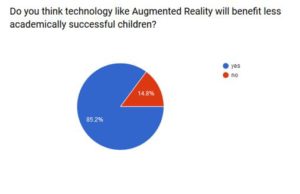 Thanks to these features there is a huge potential for improving kids learning process and makes a life of a teacher easier in the sense of equipment and getting ready for a lesson. Teacher can create, visualize and manipulate objects with one device and an application right in the classroom."
This changes educational content relation and brings new experiences as well as helps to acquire material 3 times quicker due to engagement of all perception channels: visual, auditive and kinesthetic and develops more interest in any subject where this technology has been applied.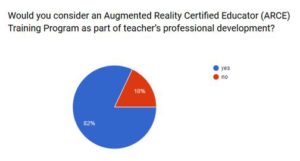 How do I use this innovative AR concept in the classroom is the most common question asked by teachers? The research showed that majority of educators are unfamiliar or not confident with the use of AR in the classroom, therefore interested in a training program as part of their professional development.
Augmented Reality Certified Educator (ARCE) certification validates that educator has Augmented Reality technology literacy competencies and can provide innovative, rich, custom learning experience for students. The training program provides a comprehensive e-learning curriculum offered with the focus on teaching with Augmented Reality technology.
Based on the research results, it is possible to state that emerging technologies are in the sphere of interest of educators today. Technology companies who create those solutions need to pay attention at the information delivery and assistance in implementing their solutions in teaching processes. Teachers need to be equipped not only with the tools however also with the instructions on how to use them at the best for delivering the education of the future.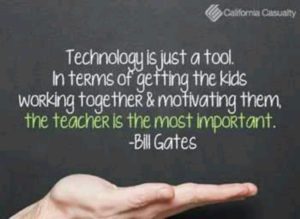 Technology in a Classroom – Augmented Reality is the Future of Education